Gobi ka paratha is a delicious and popular Indian flatbread that is made with a filling of spiced grated cauliflower (gobi) and cooked on a griddle or tawa. It is a popular breakfast or lunch option in many parts of India, especially in the northern regions where wheat flour is a staple. It can be served with plain yogurt, pickle, or chutney. It is a popular choice among vegetarians and can be customized with different spices and herbs to suit individual tastes.
Apart from being a tasty dish, gobi ka paratha also provides several health benefits. Cauliflower is rich in fiber, vitamins, and minerals like vitamin C, vitamin K, and potassium, making it a nutritious addition to one's diet. Additionally, using wheat flour instead of refined flour (maida) makes the paratha a healthier option as it is rich in complex carbohydrates and provides more nutrition.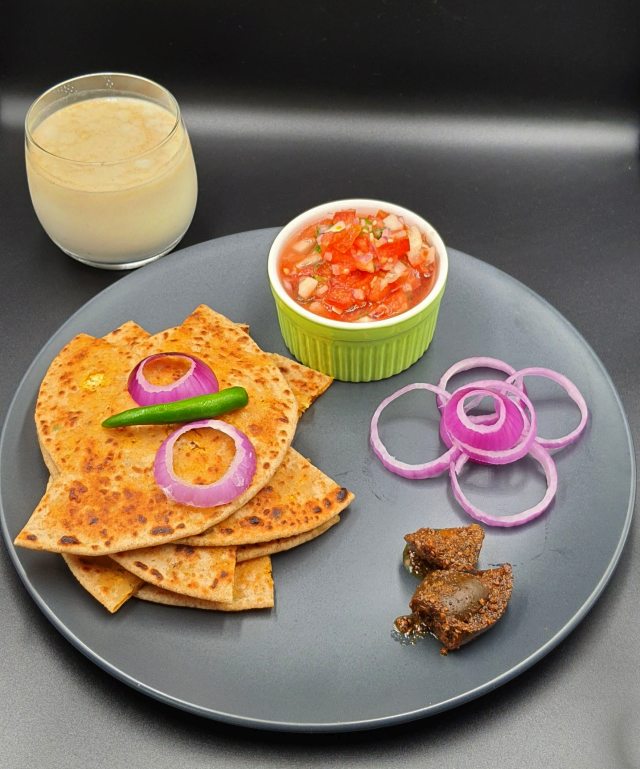 Ingredients
For Paratha Dough:
2 cups whole wheat flour
1/2 tsp salt
1/2 tsp ajwain seeds (carom seeds)
1/2 cup water (or as needed)
For Stuffing:
2 cups grated cauliflower
1 green chili, finely chopped
1/2 tsp red chili powder
1/2 tsp coriander powder
1/4 tsp turmeric powder
Salt, to taste
For Roasting:
Instructions
In a mixing bowl, combine the flour, ajwain and salt. Add water gradually to make a smooth dough. Cover the dough and set aside for 15 minutes.
2. In a separate bowl, mix together the grated cauliflower, green chili, red chili powder, coriander powder, turmeric powder and salt.
3. Divide the dough into equal-sized balls. Take one ball and roll it out into a small circle. Place a spoonful of the cauliflower mixture in the center of the circle.
4. Bring the edges of the dough together to cover the cauliflower mixture and form a ball. Press down gently with your hands.
5. Roll out the ball into a flat disc, about 1/4 inch thick. Heat a tawa or griddle over medium heat. Place the paratha on the hot tawa and cook until small bubbles start to appear on the surface.
6. Flip the paratha and brush some oil or ghee on top. Cook for another 1-2 minutes or until both sides are golden brown.
7. Serve hot with yogurt, pickle, or any chutney of your choice. Enjoy your delicious gobi ka paratha!
You can also checkout our Paneer Paratha, Chicken Keema Paratha and Tikona Paratha